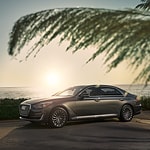 Genesis G90 is one of the highly-rated cars of the year. It is designed to provide great road performance, excellent interior upholstery, as well as plenty of techs. The comfortable seats, a notable collection of features, and its safety rating are the highest in its class. It satisfies every requirement of a large luxury car.
This years' ranking show Genesis G90 ranked position one in the category of luxury cars. Currently, it has a score of 8.4 out of 10 based on the evaluation of various sources. Indeed, Genesis G90 is an exceptional car that you should have.
Genesis G90 is equipped with a front-mounted radar sensor that detects vehicles that are within your distance, which helps the driver to maintain a distance and speed from the approaching or ahead car. It has a lane-keeping assistant program that detects unintended lane drifting. If the need arises, it puts some slight steering measures to ensure you don't stray to another lane.