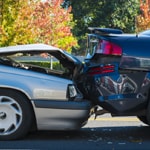 There are important steps you should take right after a car accident occurs in Duluth, GA to avoid mistakes or complications. After you're involved in the collision, check to see that everyone is safe and isn't injured in your car. You can also interact with the other cars involved to determine if anyone is hurt and needs medical attention. Call 911 if anyone is in pain.
Exchange your driver's license information and insurance card with the other driver, which will need to be handed over to your insurance company. Use your phone or camera to take pictures of any of the damage that occurred from the collision. You can also take photos of skid marks that are present on the street, which will make it easier to determine what occurred.
Never say that you're sorry or admit that you caused the crash. Allow your insurance company to investigate who is responsible.